The Tracy Beaker creator talks about how her latest same-sex love story was inevitably going to draw attention to her own private life.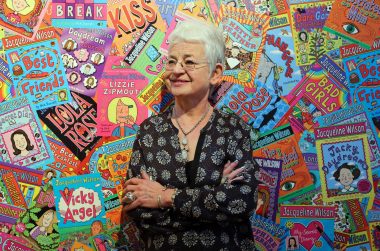 Some might say it was a brave move for Tracy Beaker creator Dame Jacqueline Wilson to focus on a same-sex love story in her latest novel, because it would inevitably draw attention to her own private life.
"I rather thought it would," the former Children's Laureate admits. "Nowadays, I don't think anybody who's vaguely in the news seems to be entitled to a private life."
Wilson, 74, who has now written 111 books, publicly came out in April, when her new novel Love Frankie was due for publication, although the date was subsequently delayed to September thanks to Covid.
The genial author, a witty, wise and modern-thinking septuagenarian, lives with her long-term partner Trish, and reflects that her same-sex partnership was not news to those who are close to her.
"I've been in a very happy relationship with another woman for 18 years. Everybody who even vaguely knew me knew all about it, so it wasn't like a grand 'coming out'. To my way of thinking, I've never been in.
"I'm of the generation that doesn't make big statements about my private life because it's just something that didn't really occur to me."
Love Frankie is a story about the eponymous 14-year-old tomboy teenager who falls in love with Sally, the prettiest girl in the class, who is also a school bully but strikes up an unlikely friendship with innocent Frankie.
As with so many of Wilson's stories, the backdrop explores other issues. Frankie's parents are separated and her mother has MS, so she has to cope with emotional turmoil in her home life as well as discovering the joys and pain of first love.
"I'd written about teenagers falling in love with boys and I thought, why don't I write about a same-sex 'falling in love' story? It was hard for me to think of many recent books which deal with two girls falling in love.
"Whether you're gay or straight or not decided, falling in love is such an extraordinary thing, it blows you away. I thought any young person might be interested in the whole phenomenon."
Wilson was married for 38 years before separating from her husband, printer Millar Wilson. She says she's not sure if she was gay when she married him at 19 – they eventually divorced in 2004, and have a daughter, Emma.
"I know it sounds bizarre, but I truly feel that I fall in love with the person, not their gender. I had an ok marriage. We were totally different and I did my best to make a go of it," she reflects.
She admits her late mother wasn't best pleased when Wilson began her relationship with Trish.
"My mother certainly disapproved, but she was just being awkward because she had gay friends herself and was very fond of other gay people. My mother and I never really got on. She disapproved heartily of my husband and indeed all of my friends.
"My own parents broke up and I was determined to make my marriage work, no matter what."
She says her relationship with her late father wasn't great either.
"He was a strange man. If it had been a modern relationship, my parents would have had a fling for about a month and realised they had nothing in common and gone their own separate ways. But they met in wartime, when couples got together quite quickly because they didn't know what was going to happen the next month, the next year.
"My mother once said, very disparagingly, 'Oh I wasn't that keen on him but he was the best of a bad bunch'. It was doomed to failure from the start."
Wilson has been shielding at her home in the countryside of Sussex during lockdown, partly because of her age and partly because she had a kidney transplant five years ago, so her immune system is weakened. But it hasn't hindered her output as a writer.
Over the years, she has tackled divorce, bullying, broken families and other adult issues in her children's books without alienating her audience, and her latest offering is no different. Blended families, illness and sibling rivalry are all thrown into the mix.
"That's just a reflection of modern life," she says, laughing. "My characters do seem to have struggles."
In the past she faced criticism from parents who felt their children should be reading fairy tale stories rather than those peppered with modern social issues.
"Some people did feel that what they wanted was pure escapism for their children. I understand that. I've tried never to make my books too depressing or frightening and there's generally a really bright light at the end of the tunnel.
"Luckily, I've rarely had a negative response. People know that if you want an absolutely fairy tale world, don't go to my books."
Part of her aim is to let children who may be experiencing difficult issues know that they are not alone. The other is to give them an entertaining read.
She doesn't go on Instagram or Twitter and believes that social media has added pressures for young people.
"Girls of Frankie's age are so concerned with their image and putting things on social media to make them look great and everybody seems to want to present themselves as super glossy, super witty, super popular, when really deep down inside most people feel anxious and worried and that the whole world is ending if they've got a spot on their nose."
She does, however, try to keep up with the youth zeitgeist.
"If I'm going to write contemporary books I've got to keep up with it in a little way, but I don't try too hard. Nothing is worse than an older person trying to use the slang of younger people and getting it slightly wrong. You just become a laughing stock."
Does she see herself as a role model for teens struggling with their sexuality?
"I don't think so because I haven't led a straightforward life in that I've been in one type of relationship for a long time and then another type of relationship for a long time. But I feel I can show what it's like to fall in love and to be painstakingly honest."
She's already written her next book, The Runaway Girls, which will be out in spring, and is excited about the fact that Dani Harmer will be returning next year as Tracy Beaker, now a single mum with a 12-year-old daughter, in a new CBBC series, My Mum Tracy Beaker.
"I'm absolutely thrilled with it and am delighted that my friend Emma Reeves who did the stage script of Hetty Feather and who has worked on some of the series, has done the script. I've had a sneak peek at the girl who might play Tracy's daughter.
"I hope all these plans can go ahead – but who knows?"
---
Love Frankie by Jacqueline Wilson is published by Doubleday, priced £12.99 hardback; ebook £7.49.
Pic Credit: Gareth Fuller/PA