The Stratford-Upon-Avon Festival of Motoring is back this year!
After a two year break the Festival of Motoring is returning to Stratford-upon-Avon with the welcome addition of an extra day.
The hugely popular 3-Day festival will take place on Saturday 30th April, Sunday 1st and Bank Holiday Monday 2nd May 2022.
Over three hundred vintage, classic, and super cars will be gloriously exhibited throughout the three days, with the town centre streets closed to traffic to accommodate the festival. Bridge Street, High Street, Wood Street, Henley Street, Union Street and Sheep Street will all host various aspects of the motoring event, including family entertainment and free entry for all.
The town's markets will compliment the occasion with all the regular stalls on Waterside, the popular and well loved street food court, and as an additional attraction this year an artisan market will be located down the centre of Bridge Street.
The Festival of Motoring will open from 10am until 5pm daily.
---
---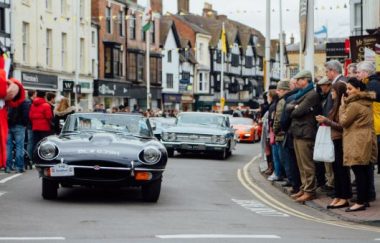 The Stratforward BID manager, Diane Mansell is very pleased with the progress so far, she said "two years is a long time to wait for the return of the Festival of Motoring but it's really shaping up to be worth it. We have retained the ever-popular Car Treasure trail, our businesses are backing the event offering visitors automobile themed activities and offers plus much more throughout the town. There is huge interest from vehicle owners and other supporters of the event and it is really looking to become a huge attraction over the May Bank Holiday weekend for families and visitors to enjoy, we are very excited and anticipate seeing the town really busy again'.




The town's market and event organiser LSD Promotions has been called in to help professionally deliver the significant logistics of the festival. LSD business development manager Jon Holliday said "we are working side by side with Stratforward to make this event another significant footfall driver for the town as well as a safe and highly enjoyable occasion for people from all walks of life to enter free of charge, browse and enjoy the diversity of interests and something to suit all ages. The Victorian Christmas Market attracted 200,000 people last Christmas and was a huge economic shot in the arm for Stratford, a town that is united and actively rebuilding its popularity. Our vision is to see the Festival of Motoring become a similar unique attraction, another joyous occasion that families can enjoy together, located in a magnificent town that is both progressive and yet proudly steeped in history".

Cllr Matt Jennings, Culture, Tourism and Leisure Portfolio at the District Council said: "As a town all the stakeholders are pulling together to provide a second to none experience for visitors and locals alike that can be enjoyed at virtually no cost. Stratford already has many amazing attractions and this festival will be a welcome addition to the economy of our town that is loved the world over".