THE UPBEAT BEATLES – LIVE IN CONCERT Performing The Greatest Songbook In History.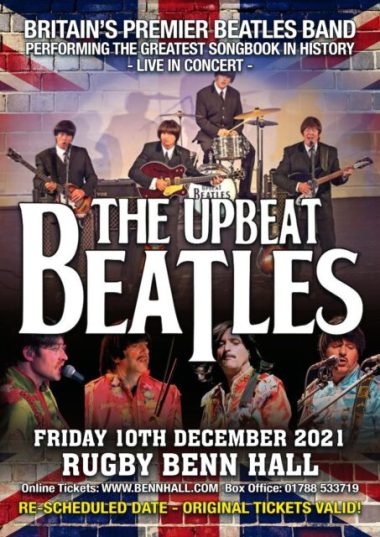 When: Friday 10th December 2021 at 7.30pm
Where: Benn Hall, Rugby
The Upbeat Beatles, Britain's premier Beatles band, are coming to Rugby's Benn Hall this month to perform their first ever concert in the town.
---
---
The Upbeat Beatles have been performing together for over 17 years – almost three times longer than the original `fab four` did!
The band will be performing all the Beatles classics – `the greatest songbook in history`- with their renown powerhouse vocals, precision harmonies and tight musicianship. In this ultimate swinging 60s show, fans of The Beatles will be treated to two hours of non-stop `Beatlemania` hits including "She Loves You", "Hey Jude", "Let It Be", "Yesterday", "Eleanor Rigby", "Penny Lane", "Strawberry Fields", "Lucy In The Sky With Diamonds" and many, many more.
The show takes you through the Fab Four's long and winding road from the early Cavern days through Beatlemania, America, Sergeant Pepper to Abbey Road, with narrative and full multi-media presentation. If you love the Beatles you'll love this show, and if you don't love the Beatles you'll love this show!
The appearance of The Upbeat Beatles is the first major Beatles tribute act to perform at the Benn Hall for several years.
Tickets are now on sale for this superb swinging 60s show.
All tickets for the original dates are valid for the rescheduled date of Friday 10th December 2021.